State Fair Thank You
Diane Werblo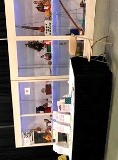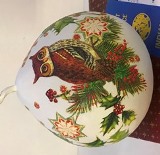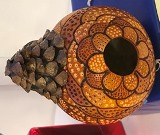 As Gourd Coordinator for the ISF, I'd like to thank our judge, who shall remain anonymous. I appreciated the days of help that Mac McCrary, Pat Moore, and Penny Boyce gave. Despite COVID-19, we had several new and returning IGS volunteers who gave us hours or even many days of support: Becky and Allen Atz, Denise Bechtold, Connie Dickinson, Rosemary Hill, Shirley Gates, Margie Kempson, Philip Moorhead, Ann Stankiewicz, Sandra and Tim Townsend, and Dale Winger who found us an interested Master Gardener. Let me know if I missed someone or misspelled your name.
Over 40 people signed our "Tell Me More" sheet. There's interest in an inner city patch in Indianapolis. A guest from Tennessee and one from Oregon want info on gourds!
As of now the IGS State Gourd Show for May 6-7, 2022 is still scheduled to take place at the Fulton Co. Historical Museum in Rochester, Indiana. The theme is still "Down on the Farm" and we hope to see all our friends there. Thank you, be safe and have A Gourd Day!

Ready for the 2022 IGS State Gourd Show?
Countdown to the Show!

C A L E N D A R
10-6-21: 6-8pm, Sugar Creek Gourd Patch (Thorntown): Snowmen/Snowwomen
10-20-21: 2-4pm: Sugar Creek Gourd Patch (Thorntown): Snowmen/Snowwomen
NOTICE
The calendar above shows some patches are starting to meet again. Some patches have made the decision to hold off meeting for a few more months. Please contact the patch leader for more information.
For patch contact info:
Click here