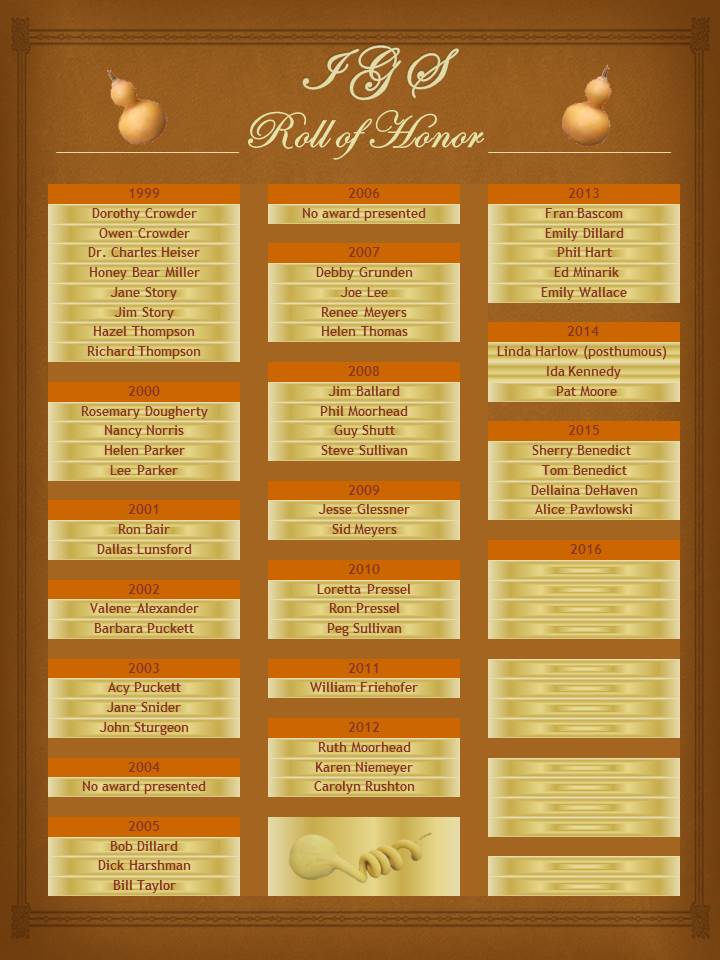 The charter members who founded the Indiana Gourd Society decided to show their appreciation to those individuals who went above and beyond their volunteer efforts for the society. This passion for the growing, crafting and promotion of gourds is show in their efforts. Individuals who have clearly demonstrated this work in any area of the gourd society may be nominated for the Roll of Honor. All nominees must be current or past members of the society. Any current IGS member may make a nomination. Nominations for the Roll of Honor are to be sent to the secretary of IGS on an 8 ½ X 11" sheet of paper. The Executive Board will review the nominations. If necessary, the Executive Board will appoint a committee to narrow the number of nominees. If a committee is needed to reduce the number of nominations, they will return to the Executive Board a smaller list of nominees. The executive board will then select the honorees from the smaller list. The Executive Board will have the final decision regarding how many individuals there will be. Nominating instructions will appear in the Tendril and on the IGS website.

Those found worthy by the Executive Board will then have their names engraved on the Roll of Honor plaque and will be introduced at the dinner of the annual Indiana Gourd Show.

Possible Nomination Instructions:

On a piece of 8 ½ sheet of paper write or type why you believe your nominee should be added to the Roll of Honor. Please site specific activities this individual was involved with.

Send your nomination to the Secretary of I.G.S. by February 1.